5K and 10K Run/Walk
Check out the 2015 Handmade Awards!!
(Click to see larger image)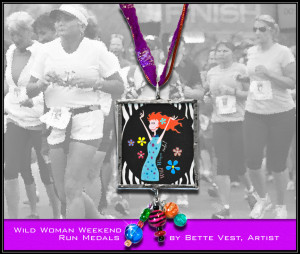 2015 WW RESULTS!!!
2014 WW RESULTS!!!
April 11, 2015, 8AM
Register Now!
Location
The Old Blanco Courthouse, Downtown Blanco, Texas
Packet Pick up
Race day at the Old Blanco Courthouse from 6:45AM 'till 8AM.
About This Event
The running event is one of the many activities to be had during the Wild Woman Weekend (for specific info about Wild Woman Weekend go to www.wildwomanweekend.org  or email wildwomanweekend@gmail.com ). You will run through scenic and historic Blanco, Texas and along the Blanco River in Blanco State Park as part of Wild Woman's Weekend. The 5K is an out and back course that runs through downtown and along the beautiful Blanco River in Blanco State Park. The 10K continues on down Old Kendalia Rd and runs on a little bit of gentle, non technical dirt trail for short distance before reentering pavement. Both courses are flat and fast with bathrooms along the way.
Awards for 5K and 10K
Overall and Master (40 and up)-  1st place only
Age groups-  Top 3-  29 and under: 30-39; 40-49; 50-59; 60 and up.
Who does Wild Woman 5K/10K benefit?
All proceeds will benefit Blanco Non-profit Coalition—a supporting organization for four area 501(c)(3)s. Gem of the Hills Seniors Community Center provides community-wide health, fitness and social activities with a special emphasis on area seniors. Friends of Blanco State Park help to maintain our local park and underwrite activities for children and the community that encourage conservation and enjoyment of our great outdoors. Blanco Library, Inc., supports our local library, serving patrons throughout the area with traditional library services as well as children's art and reading programs and computer access. Finally, the Old Blanco County Courthouse Preservation Society maintains our wonderful old courthouse as the center of our community and a model for historic preservation. As a small community we have joined forces to raise the money we need to keep operating these wonderful organizations.
What do I get for the $$?
All runners receive an awesome women's cut,  technical t-shirt with the Wild Woman logo, awesome music, a beautiful, well marked, well supported course, chip timing and fresh, hot breakfast tacos at the finish hand rolled by Blanco's finest breakfast taco artists.
Water Stops
Water Stops There will be 2 well stocked, well manned water/sports drink stops on the course for the 5K and 4 for the 10K plus one at the finish.
 Active and Retired Military/Fire/Police Discount
MAIL IN ONLY All of the above receive a $5 discount. Go to www.runintexas.com/wildwoman to access paper entry download.

;